Care Series (ADA Compliant)
We Specialize in Custom Tub/Shower Units That Meet Your Specific Goals.
Learn more about ADA Compliance
Aqua Bath's experience allows us the flexibility to change the location of the drain, seat or soap dish and to customize the width and depth of the unit to fit a specified area. Our state-of-the-art shower provides for comfortable bathing. Larger showers will accommodate a wheelchair or shower chair. Below is just a sampling of our product line.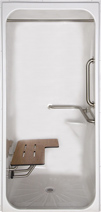 36"x 36" Barrier Free
C4136BF-FUS+
Barrier Free Transfer Shower 2" (Pit Install) or 3⁄4" (Top of Slab) With Fold-Up Seat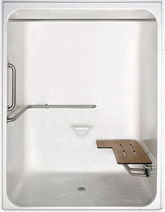 60"x 30", 36" or 48" Depth
C6536BF-FUS shown
Barrier Free Roll-in Shower 2"(Pit Install) or 3⁄4"(Top of Slab)
Specialty Models, Shower Pans & Bases