Tubs & Showers
Model#: AB4834SH Shower With 7 3/4″ or 4″ Threshold (48″ x 34″ x 84″)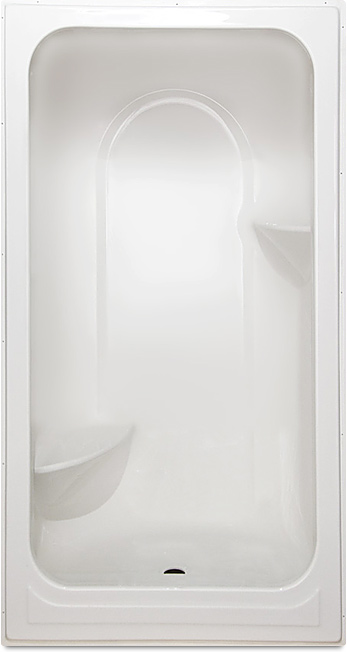 Aqua Bath's Residential Unit is molded from a single sheet of cross-link sanitary grade acrylic without any joints or seams. The advantages of this one-piece construction is greater rigidity, lessens pre-installation damage, cuts costly maintenance and best of all, there are no places for mold to grow.
The enclosure inside dimensions are 45 1/2″ wide x 33 1/2″ deep x 80″ height. The outside dimensions are 48″ wide x 34″ deep x 84″ height and has contoured flanges to accept drywall for easy and clean installation. The enclosure has one molded seat, an arch molded design on back wall, one molded soap dish and ribbed bottom for slip resistance. The approximate weight of the unit is 180 pounds.
Meets ANSI 124.2 and is designed to meet NAHB (National Association of Home Builders). Uses polyester resin system with flame retardant fillers to provide a backside flame spread of less than 30 (Class B).
Options:
• Curtain Rod
• Antibacterial Shower Curtain With Hooks
• Dome Light
• ASTM F462 Non-Slip Bottom
< Previous | Products | Product PDFs | Next >