Care Series (ADA Compliant)
Model#: C6436BF-OT+
 Barrier Free Transfer Shower 2″ or 3⁄4″ With Fold-Up Seat
Please select the Blue Buttons for the PDF datasheet shower configuration you desire. The REVIT file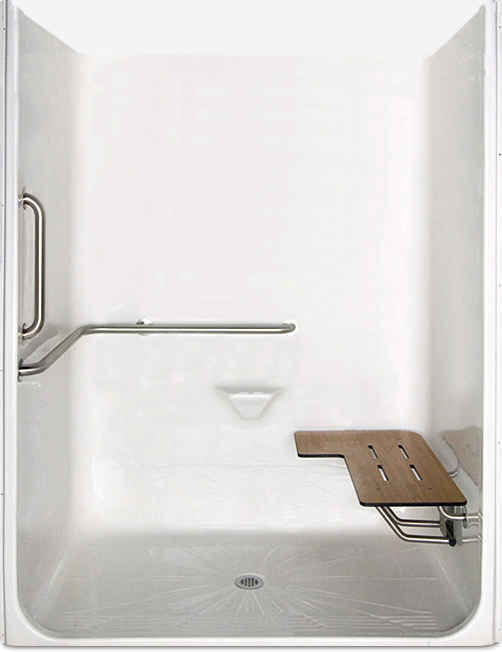 Aqua Bath's Transfer Roll-In Shower Stall is molded from a single sheet of Lucite® cast acrylic without any joints or seams. The advantages of this one-piece construction is greater rigidity, lessens pre-installation damage, cuts costly maintenance and best of all, there are no places for mold to grow.
The enclosure inside dimensions are 60″ wide x 36″ deep.  The 3/4″ threshold unit allows for a top of slab application. However, the finished floor detail must comply with ADA Compliance and must be flush with the top of the threshold to give a complete barrier-free entrance and exit of the wheelchair from the shower enclosure. The approximate weight of the unit is 275 pounds.
Meets ANSI Z124.2, ANSI A117.1, ADA Guidelines as well as other standards for accessibility and NAHB (National Association of Home Builders) listed. Unit has a backside flame spread of less than 30 (class B).
Options:
• Hidden flange rod (for use on open top)
• Convertible/removable fold up seat
• Fold-Up Seat (adds 3/4″ to outside width)
• Hand-Held Shower Set
• 24″ Grab/Slide Bar
• Pressure Balance Control Valve
• Antibacterial Shower Curtain With Hooks
• Brass Drain
• Factory Drilled For Dome Light (For Use On Dome Model)
• Removable Threshold (RT-65)
• Water Retention Strip (WRS)
• Modify to 30" Inside Dimension Depth & Remain ADA Compliant
• Modify to 48" Inside Dimension Depth & Remain ADA Compliant (48" depth model is only available as 2" threshold)
< Previous  |  Products  |  Product PDFs  |  Next >